Coconut Whipped Crème Leave-in Conditioner
Whip your hair into shape with the best leave-in conditioner for curly hair that will smooth, reduce frizz, and deeply moisturize your curls. With hydrating coconut oil, this leave-in conditioner provides nutrients for your hair to soon reveal curls you can't help but love.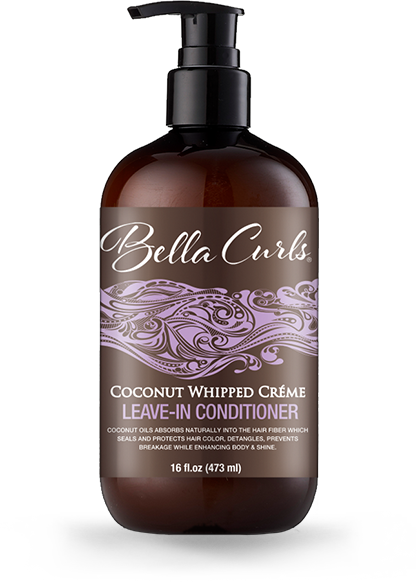 Reviews
I must say I have tried a few products but nothing has compared to Bella curls co-wash, leave-in and curl creme. This stuff is amazing!!!!! It leaves my hair soft and shiny without that heavy oily feel and my curls POPPIN'! So happy I finally found the perfect product for MY hair.
Kylie F.
Kansas City, Missouri
I decided to go natural 11 months ago. I have tried so many products, that didn't work for my hair. I bought this conditioner and i absolutely love it. My hair stays soft for days. I can comb it with no tangles. I wish the store had more from this company. I need more, i want me! This product has changed my life. Love it
So I brought this product today and after using it twice, I absolutely love it. My hair still feels light and not heavy.
The curls in my hair are super tight and it has been a struggle to keep them moistured but as soon as I used the leave in conditioner my hair was soft, curls loosened up some and kept their same shape! This product is amazing and very affordable!
This stuff is amazing on my hair. I'm 4c so not a lot of products help me retain moisture and are well priced. This is both. I picked this up along with the coconut curling cream and boy do I love them both. I'll be purchasing the co-wash next to see how the it works. I'm very pleased with the product and price.