Coconut Crème CoWash
Get your 'Do without the poo! Our no poo co-wash for curly hair is a nourishing splash of coconut oils rich in minerals. Conditioner washing your curly hair will result in healthier, more conditioned, and super clean locks.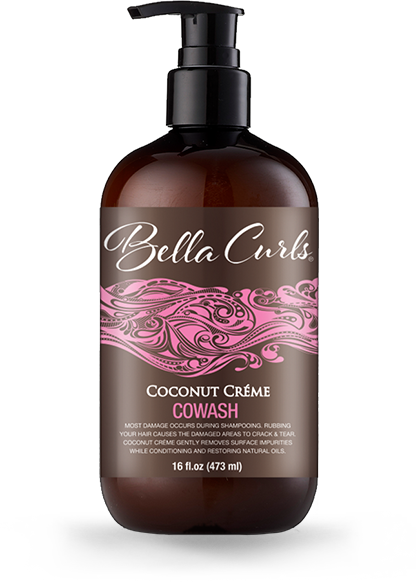 Reviews
Just purchased the co-wash, leave in conditioner, and hair creme from my local Dollar General. I can't believe how big the product is and I was able to purchase all three for under $20 bucks!! Did I mention how amazing the product smells!?!
Christie J.
Nashville, Tennessee
Hello! I just want to thank you for such a great hair care product for naturally curly hair. I have tried so many over priced products in the past but they were too watered-down or more like a hair gel that flaked. Bella Curls is very gentle on my hair with plenty of moisture and very affordable. Thank you!
I have never loved my hair so much in my life! I have always embraced my natural curly hair but could never make it look defined without being greasy, hard, or with lots of buildup. Every shampoo conditioner combo I've tried made my hair a frizzball mess. And trying to clean it with only conditioner for months got gross. CoWash has saved my hair life! My curls are happy bouncy and perfect! The fact that it is cruelty free means so much to me since it is surprisingly hard to find in hair products, especially ones that are so affordable! I hope I never have to be without it, truly. Thank you Bella Curls!
Mia
This is literally one of the best co-wash products I've purchased. I bought it from Dollar General for about $5. It leaves my hair so soft. I can't to try the other products.
Thank you, thank you, thank you.
I recently tried your Bella Curls cowash, leave-in and curl cream and I am amazed at how shiny and moisturizer my 4a /4b curls are. I have been natural 4 years and these are the best products I have ever tried. I'm on day 4 and my hair still has moisture and definition from my chunky twist out. Can't wait to just try these alone for a wash and go without gel and the rest of the line when available in my town.