Coconut Crème Curls Defining Crème
Define your curls with a coconut concoction that is bound to keep those locks looking curly. This all natural, coconut-infused curl defining crème is the ultimate trick to making your curly hair look healthier, more beautiful, and of course effortlessly fabulous.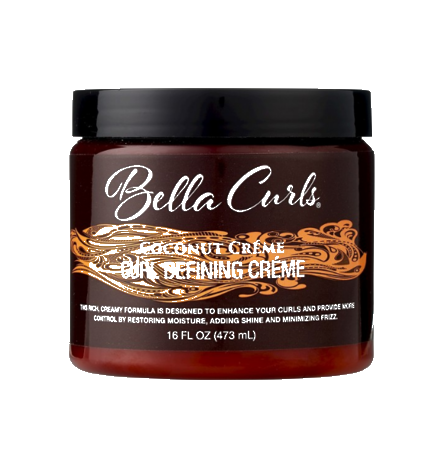 Reviews
I purchased this yesterday and gave it a try on my daughters hair last night. It was AMAZING! It left her hair moisturized and soft but not heavy- also, worked wonderful at getting tangles out of her hair while I was styling it. I hope the store that I purchased this from continues to carry your products.
Niesha C
Baltimore, Maryland
I love this product. Leaves nothing but soft, defined, moisturized curls. Please don't ever change the formula. I'm a Bella Curls girl 4 life.
OMG! The defining cream is so AMAZING. I can't believe the cost is so low; my curls are so PERFECT, soft and bouncy. I will be stocking up on Bella Curls Defining Cream and CoWash. I now have a life long product for my curls. (My hair type is 4c)
Yesssss yessss yessss. Gives hair a nice slip when wet so the hair can be easily detangled. Made my hair sooooo soft and bouncy. I have to go back to the store i bought it from to get more. Do not want this to ever be out of stock.
Absolutely wonderful!!!! Im hoping you can help me find the shampoo and conditioner. I have the other 3 products but cant find those 2